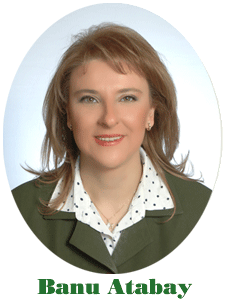 She was born on September 12, 1969, in Ankara. She graduated from primary school, secondary school and girl's art high school in Ankara. Firstly, she received education at Faculty of Economics in Anadolu University, and then she received education at Faculty of Languages, History and Geography in Ankara University. She carried out some projects about Polish at Warsaw University, she translated too many Polish stories into Turkish. And then, she got pedagogical formation education at Gazi University Teachers College.

She worked as cloth designer, styler, teacher and portrait photographer. She has worked at NGOs as a volunteer.

Cooking has been her favorite occupation since her childhood. She has managed researches about foods and food culture in various regions of Turkey since 1995.

Her cookbook series named as Mütevazi Lezzetler (Humble Enjoyments), which are also approved by Ministry of Culture, were published by Park Foto Kultur Yayinlari (Park Foto Culture Press). Being sold online, these have been the most popular cookbooks among Turkish people all around the world, from Australia to US.

Mutevazi Lezzetler® Turkish Cuisine and World Cuisine

Her Coming Books:

Mutevazi Lezzetler® Meatballs (coming soon)
Mutevazi Lezzetler® Desserts with Syrup (coming soon)
Mutevazi Lezzetler® Makaronis
Mutevazi Lezzetler® Black Skillet
Mutevazi Lezzetler® Chicken Dishes
Mutevazi Lezzetler® Gaziantep
Mutevazi Lezzetler® Meat Dishes
Mutevazi Lezzetler® For Men
Mutevazi Lezzetler® Buns
Mutevazi Lezzetler® Kebabs
Mutevazi Lezzetler® Pastries
Mutevazi Lezzetler® Vegetarian
Mutevazi Lezzetler® Desserts
Mutevazi Lezzetler® Eggplant Dishes
Mutevazi Lezzetler® Regional
Mutevazi Lezzetler® Fishes
Mutevazi Lezzetler® Milky Desserts

Her websites:

banu.atabay.org (This site)
mutevazi.lezzetler.com (Mutevazi Lezzetler® Turkish Cookbooks' site in Turkish Language)
tr.ml.md (Mutevazi Lezzetler® Turkish recipes in Turkish Language)
az.ml.md (Mutevazi Lezzetler® Turkish recipes in Azeri Language)
en.ml.md (Mutevazi Lezzetler® Turkish recipes in English Language)
es.ml.md (Mutevazi Lezzetler® Turkish recipes in Spanish Language)
it.ml.md (Mutevazi Lezzetler® Turkish recipes in Italian Language)
ru.ml.md (Mutevazi Lezzetler® Turkish recipes in Russian Language)
ar.ml.md (Mutevazi Lezzetler® Turkish recipes in Arabic Language)
foto.lezzetler.com(Mutevazi Lezzetler® Cookbooks' Photo Galleries)
lezzetler.com (Turkish Cooking Recipes in Turkish Language)
yemek.tarifi.org (Index site for lezzetler.com with 160 subdomains)
lezzetler.net (Turkish Recipes in English Language)
es.lezzetler.net (Recipes in Spanish)
de.lezzetler.net (Recipes in German)
it.lezzetler.net (Recipes in Italian)
fr.lezzetler.net (Recipes in French)
lezzetler.org (International)

Contact to Editor:


For Your Comments and Wishes about the Recipes at the Books:


For Sending Your Recipes:


Contact to Press:

en.ml.md alphabetical Turkish cooking recipes
This website has been visited 26.02.2005
This web site is best viewed with 1024*768 resolution
©2005-2020 All rigths reserved Webmaster: lezzetler.com|ça